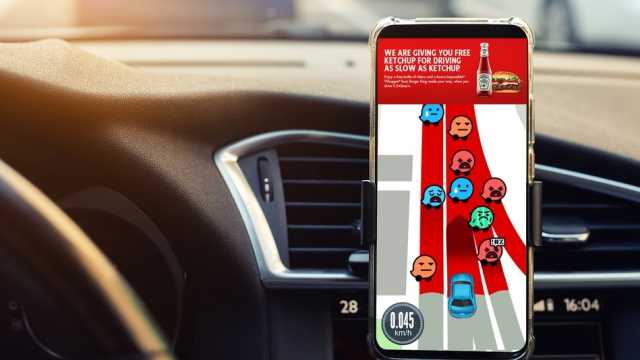 Heinz begins traffic jam promotion
Kraft Heinz Canada has begun a promotion in association with mobile application Waze and fast food chain Burger King, using as its theme the experience of being stuck in summer traffic. From June 3 to July 4, consumers who drive at the speed of 0.045 km per hour, as measured by the Waze app, will receive ads via the app that will offer a free Impossible Wopper with Heinz ketchup. According to the company, 0.045 km per hour is the speed at which Heinz ketchup pours from the bottle.
The campaign also include online video making use of video provided by consumers stuck in traffic, as well as influencer activities and out-of-home ads tied to the speed of passing traffic. The campaign creative was developed by Rethink, with media work by Carat and public relations by The Colony Project.
"Surprisingly, many people don't know that Heinz pours out of our glass bottle at 0.045 kilometers per hour," said Daniel Gotlib, associate director of brand building and innovation at Kraft Heinz Canada. "With more Canadians potentially on the road this summer whether within their own cities or for weekend getaways, traffic is going to a pain point we all may need to get used to again. We want to help our fans see that going slow isn't always a bad thing and reward them with the delicious, iconically slow-pouring Heinz Ketchup for those terrible traffic jams. We are thrilled to team up with Waze and Burger King to bring Canadians the meal synonymous with summer, and after sitting in weekend traffic, we know there is nothing more satisfying than a delicious burger with Heinz ketchup."
Comments