GE Appliances sponsors Canada Soccer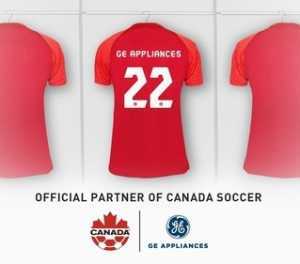 GE Appliances Canada has signed a multi-year sponsorship agreement with Canada Soccer. The company will become the first appliance sponsor of Canada Soccer and its national teams. The deal includes in-stadium branding and signage during home matches as well as broadcast exposure, public relations, digital and social media executions. The sponsorship was negotiated by Canadian Soccer Business. It will begin ahead of Canada's first FIFA World Cup Qatar 2022 Qualifiers match on Jan. 27.
"When we started out, we were clear we wanted to take our sponsorship of soccer to the next level," said Bob Park, chief of brands for GE Appliances Canada. "GE Appliances wanted to go beyond being a typical corporate sponsor. We want to be a true supporter, committed to developing and elevating the beautiful game in Canada and on the world stage. Whether it's the national teams or our fiercely dedicated soccer fans, Canadians have an unrivaled passion for this sport. GE Appliances has always had a relentless dedication to quality and innovation, our partnership with Canada Soccer was a natural fit."
Comments