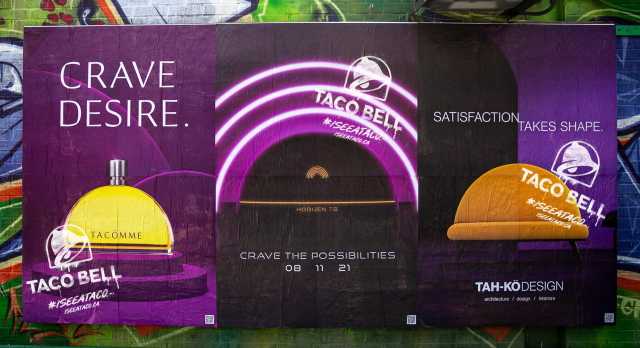 Taco Bell prepares free taco promotion
Fast food chain Taco Bell Canada will conduct a promotion on Aug. 11 called "I See a Taco." On that day, the company will give away free tacos in-store, via online ordering and through participating delivery services. The company has been conducting a social media and street poster teaser campaign in advance of the giveaway that includes faux ads for a new perfume called Tacomme and a firm called Tah-kö Design.
The national promotion also encourages consumers to take photographs of taco-shaped objects or images they may see and post them to social media sites with a campaign hashtag. Those who do will be entered into a draw for additional free tacos and other merchandise. The promotion also includes a website at <http://www.iseeataco.ca>. Taco Bell is a subsidiary of Yum Brands.
"We're excited to kick off Taco Bell's global 'I See a Taco' campaign in Canada in a big way with this epic taco giveaway on August 11," said Devon Lawrence, senior brand manager at Taco Bell Canada. "Once you start seeing tacos in the wild, it will be very hard to stop. We hope to see plenty of Canadians taco spotting and picking up free tacos to celebrate."
Comments